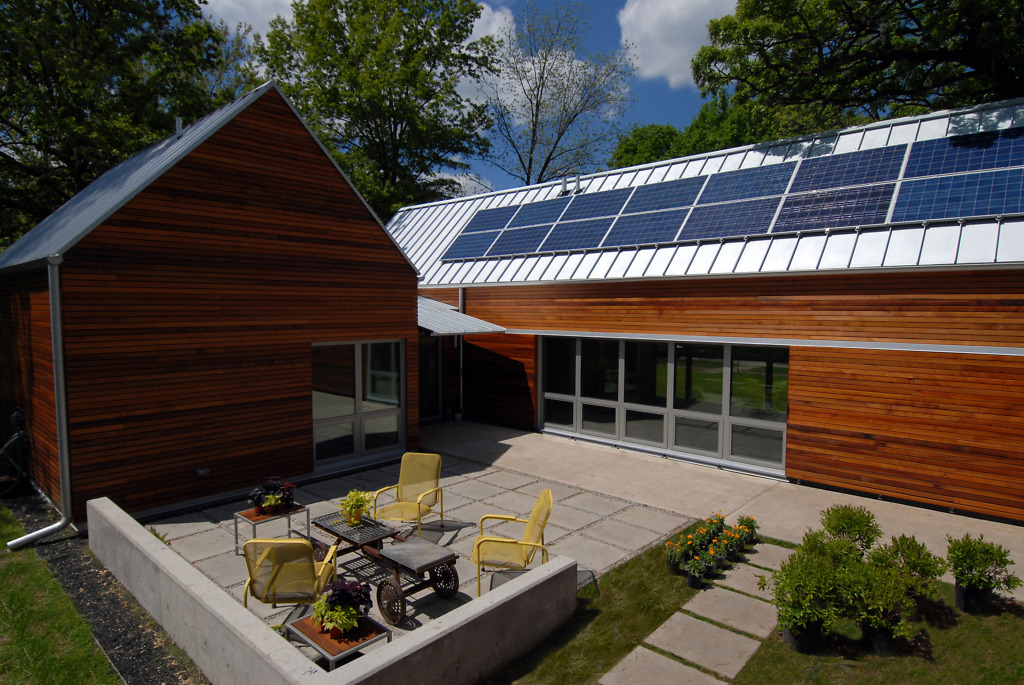 1200 Pennsylvania House 2016
There has been a trend toward empty nesters moving from the suburbs back to the urban amenities and proximities that the suburbs do not offer. This house is in a historic neighborhood, a short walk from a grocery store, a grade school, a community center, and the downtown of Lawrence, Kansas.
The 1600 sf house features an airtight, highly insulated thermal envelope, efficient Light fixtures and appliances, as well as a high-performance mechanical system. These design characteristics, in combination with a photovoltaic array on the roof and the proper orientation to take advantage of the sun and wind, will assure the owner little or no energy costs. This all was accomplished while meeting the design requirement to build within the environs of a listed historic property nearby.
The house occupies a lot and a half and generously engages the site. The focal point is the South facing courtyard. It is sheltered from the North winds to maximize its use through the year, and a rain garden collects the storm runoff to support the growth of native plants. Nearly every room opens to the garden and the windows allow winter sun to heat the concrete mass of the floors.
The front elevation is composed of two gables that are joined by an entry foyer. To the left is the living room and to the right is the kitchen. It is the social heart of the residence and has views to the rest of the house, the courtyard, and the street.
The unassuming forms, the standing seam roof, the half round gutters and the minimal trim detailing was all done to emphasize the character of the horizontally run cedar which was reclaimed from railroad bridge trestles that have been dismantled by the logging industry.
LEED Platinum Certified