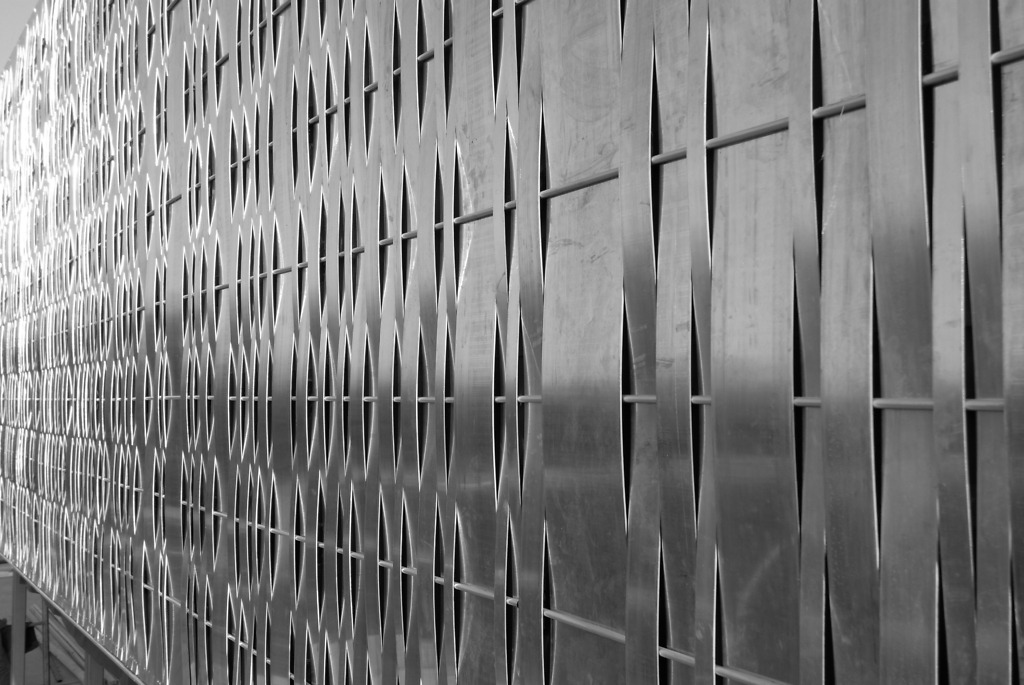 Mission
Studio 804, Inc. is a not-for-profit 501(c)3 corporation committed to the continued research and development of sustainable, affordable, and inventive building solutions. The University of Kansas Department of Architecture offers this comprehensive education opportunity for graduate students entering the final year of the Master of Architecture program, transfer students, or professionals — anyone who wants to be a better architect by having had the experience of designing and constructing a sophisticated building in its entirety from the ground up. Students work on all aspects of the design and the construction process over the course of a nine month academic year. This includes all systems, construction documents, estimates, working with zoning and code officials, site layout, placing concrete, framing, roofing, siding, setting solar panels, landscape and more — there isn't anything we don't do ourselves.
Since the beginning, the work of Studio 804 has targeted energy efficient and sustainable design. Since the 5.4.7. Arts Center in Greensburg, Kansas, which was completed in 2008, each project has been LEED Platinum Certified and several of them have been Passive House US (PHIUS) Certified. All the houses have targeted net zero energy use over a calendar year.
---
Publications and Awards
Studio 804
Design Build
Expanding the Pedagogy of Architectural Education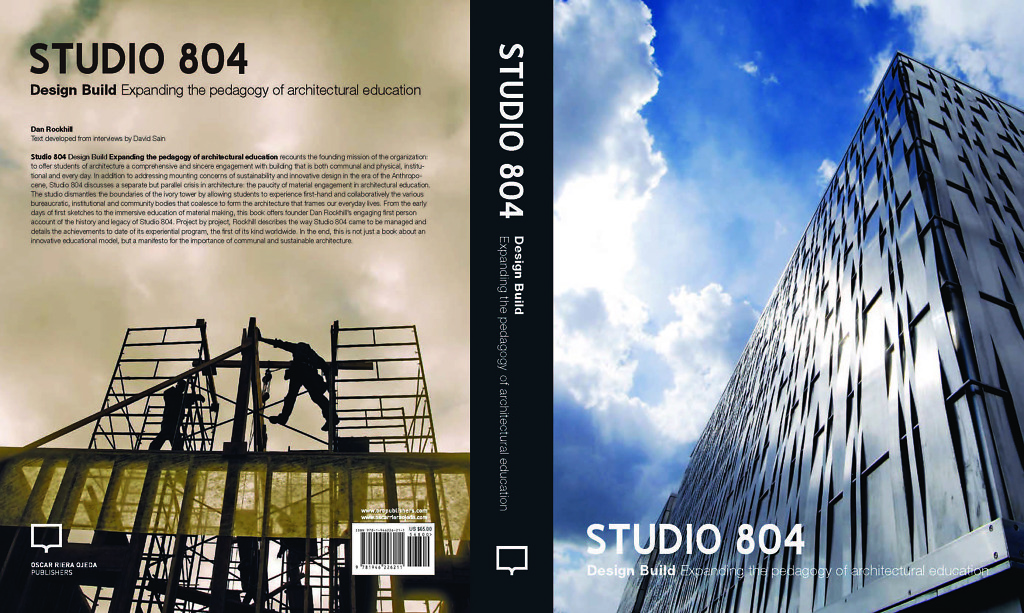 Available from Oscar Riera Ojeda Publishers www.oropublishers.com
It can be purchased over the counter in Lawrence at The Raven Book Store and The KU Union Bookstore. In Kansas City it can be purchased at the Kemper Museum of Contemporary Art Museum Shop and The Nelson Atkins Museum of Art Museum Store. It can be purchased online at the independent bookstores the KU Union Bookstore and The Raven Bookstore as well as at Amazon and Barnes and Noble.
Publications:
Architecture of Necessity, WOOD Book +exhibit, Virserum Museum,Sweden 2022
Asensio, Oscar. Influencers Arch, Ash St + 12th St Houses, Summer 2022
Minguet, Eva. "Studio 804 Gallería," Monsa Pub, Barcelona, Summer 2022
Koones, Sheri. Bigger Than Tiny, The Houses on Oak Hill Ave, Winter 2022
Nieminen, Robert. Meet the winners of 2021 Purpose Awards winners 2021
Koppen, Julie. Monarch Village Tiny Homes Greenability magazine, 2021
Biele, Heather. Tiny Homes, Big Solution, Kansas Alumni, issue 3, 2021
Balzani + Di Giulio. Galileo Pavilion, Architettura e Sostenibilita, Italia, 2021
Ravic, Vesna. Tradicionalno & Savremeno, ecokucha No37. Serbia, 2021
Jackson, Amijah. Portable Homeless Shelter. KC Magazine April 2021
Thiels, Gabriele. Klassenziel Erreicht, HAUSER, No2. Germany 2021
Hill John. Dan Rockhill Books.100 influential Books…Prestel March 2021
Greinacher, Udo. Dan Rockhill. What Kind of Architect are you? ORO 2021
McLachan, Stacey. future-of architecture education, DWELL, Dec 2020
Lee, Lydia. 804-learning-experience, Custom Builder Dec 2020
Miller, Lucy. "College Students Built These," GB+D Magazine, January 2020
Gerfen, Katie, Two Houses on Oak Hill Ave, Architect, pp 136-39. Dec 2019
Keegan, Edward. 12th St Sustainable House, Architect, pp 125-28. Dec 2018
Editors, Architecture for Education, Architectural Record, January 2018
Editors, Top Schools, University of KS Studio 804, Azure, January, February 2018
Keegan, Edward. 1330 Brook St, Architect Magazine, September 2017
Corner, et al. Prescott + NY Passive Houses, Passive House Details, 2017
"Bioclimatic Construction", special issue, DETAIL Magazine [Germany], issue 5, 2017
Aksamija, Ajla, "Center for Design Research, University of Kansas", Integrating Innovation in Architecture, 2016
"A Forum for Practical Learning", Green Building & Design, March–April 2016
"The Forum at Marvin Hall", DETAIL Magazine [China], 2016
Hill, David, "Study Hall", Architectural Record, November 2015
Lentz, Linda, "Continuing Education: Dynamic Glass", Architectural Record, March 2015
MacKay-Lyons, Brian, Local Architecture, New York: Princeton Architectural Press, 2015
Gerfen, Katie, "EcoHawks Research Facility", Architect Magazine, August 2013
Moskovitz, Julie Torres, The Greenest Home: Superinsulated and Passive House Design, New York: Princeton Architectural Press, 2013
"Energy Efficient University Building", Third Holcim Awards [Sweden], 2011–12
Lovric, Vladimir, "Eco House", Eko Kuća [Serbia], June 2012
Tsiora-Papaioannou, Dimitra, "Epeynhtiko Kansas", Ktirio [Greece], 2012
Serrats, Marta, "Modular 4", Prefab Houses DesignSource, New York: Harper Design, 2012
Van Uffelen, Chris. "Prescott House", Passive houses: Energy Efficient Homes, Salenstein: Braun, 2012
Duran, Sergi Costa, "3716 Springfield", "Sustainable Prototype: Arts Center", The Sourcebook of Contemporary Green Architecture, 2011
Awards:
Editors, Meet the Top Winners, Metropolis Planet Positive Awards, 2021
Editors, Top Tier, Architects Newspaper 2021 Best of Design Award, 2021
AZURE Design Awards, Merit Award + People's Choice, Ash Street House, 2021
2020 USGBC WNC Leadership Awards – Innovative Project, Residential 2020
USGBC Central Plains Leadership Award, Oak Hill Ave Houses, 2020
Builder Magazine Award, Innovation in Housing, Oak Hill Avenue Houses, 2019
Residential Architect Design Award, Oak Hill Avenue Houses, 2019
Phoenix Awardee, Creative Spaces, Lawrence Kansas Cultural Arts Commision, 2019
USGBC Central Plains Leadership Award, 12th St House, 2019
Residential Architect Design Award, 12th Street House, 2018
St Louis Architect & Designer Awards 2016, New York St House
Canadian Wood Council, Wood Design Award, The Forum at Marvin Hall, 2016
AP Systems Design Award, 1301 New York House, 2016
Best of 2015 Design Award, The Architect's Newspaper, 2015
Honorable Mention, The Architect's Newspaper, December 2015
Wood Design Awards, Celebrating Excellence in Wood Architecture, 2015
AIA Central States Region Design Excellence Award, The Forum at Marvin Hall, 2014
AZURE Design Award, Finalist, EcoHawks, The Hill Engineering Research and Development Center, 2014
Architizer A+Award, EcoHawks, 2014
Fassa Bortolo Italian Award for Sustainable Architecture, Honorable Mention, Galileo's Pavilion, 2013
AIA Design Excellence Award, Center for Design Research (CDR) and Galileo's Pavilion, 2012
Holcim Awards, Acknowledgement Prize for North American Architecture, CDR, 2011
Cooper-Hewitt National Design Award Finalist in Architecture, Dan Rockhill, 2011
Evergreen Award, Greenhouse Award, Architect Magazine, 3716 Springfield House, 2011
Residential Architect Design Awards, Grand Award, Single Family Housing, Mod 4, 2011
International Wood Products Association (IWPA), Environmental Excellence Award, 3716 Springfield House, 2010
AIA Central States Region Design Excellence Award, St Louis, Prescott House, 2010
National Council of Architectural Registration Boards (NCARB) Prize for Creative Integration of Practice and Education, 2009
Green Good Design Award, European Centre for Architecture Art Design and Urban Studies and The Chicago Athenaeum: Museum of Architecture and Design, Mod 4, 2009
AIA Education Honors Award, Studio 804, 2009
Into the Open: Positioning Practice, Venice Architecture Biennale, Venice, Italy, 2008
Cooper-Hewitt National Design Award Finalist in Architecture, Dan Rockhill, 2007
Boston Society of Architects, In the Pursuit of Housing, Mod 3, 2007
Residential Architect Design Awards, Judges' Award, Mod 3, 2007
Home of the Year Award, Architect Magazine, Mod 3, 2006
Home of the Year Award, Architect Magazine, Mod 1, 2004
Dan Rockhill CV