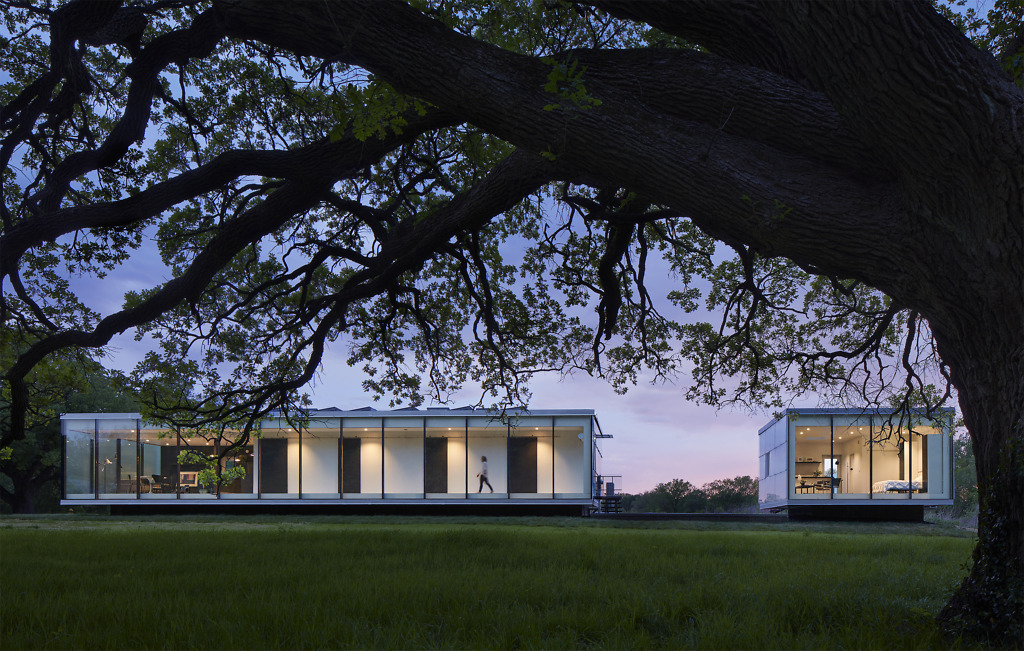 1220 East 12th Street House 2018
This project is unique for its neighborhood because of the pastoral nature of the site. located adjacent to Brook Creek Park, which boasts the second largest Burr Oak tree in Kansas, the house is oriented to maximize the unobstructed views of the tree and the surrounding natural landscape of the park. It is also a generous site, nearly double the size of the typical lot in its zoning district With this extra room and interest in increasing density in the established neighborhoods of Lawrence, Kansas, an accessory dwelling unit was included in the project to add income property or a home for an extended family member.

The house is modern, open and flexible. Both the 1550 sf house and the 500 sf accessory dwellings are fully accessible and features a smart home system where the residents will the potential to control the lights, window shades, and thermostat from one unit or an app on a phone.

Unobstructed glazing on the East side of the dwellings flood the rooms with natural light as they open to the magnificent Burr Oak tree and the park. The other elevations are finished with glass secured to the outside of insulated metal panels to create a continuous glass box. The South elevation is finished with fritted glass that block5 80 percent of the sun, but lets day Light enter the living room.

In keeping with Studio 804 tradition, it utilizes re-purposed materials and incorporates new and advanced building technologies targeting sustainable goals. Native plantings and pervious surfaces are used on the site to reduce the amount of rainwater that flows into the storm system. The super insulated building envelope emphasizes both sustainability and thermal comfort. Highly efficient ventilation systems and natural daylight reduces the use of mechanical conditioning. The house hosts an array of 18 solar panels and is designed to target net zero energy use.
LEED Platinum Certified