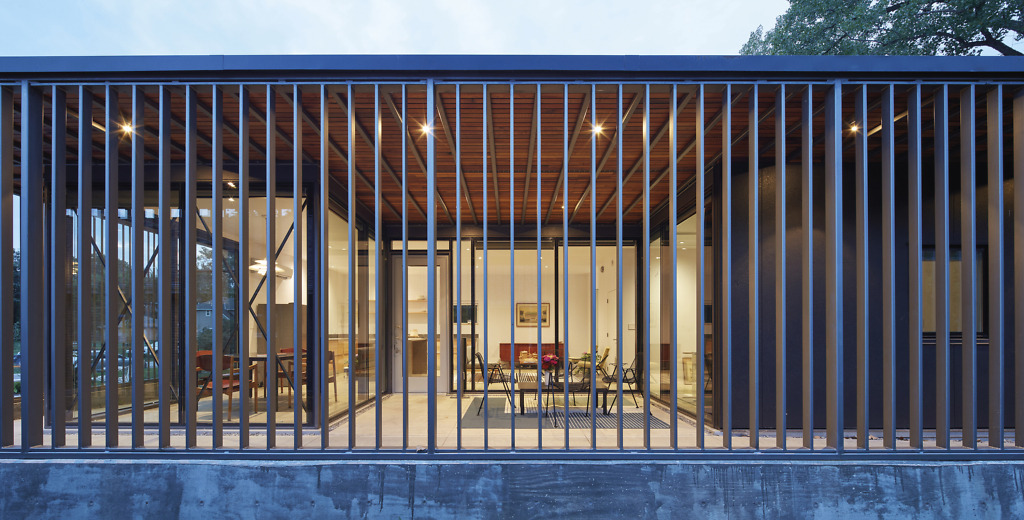 1330 Brook Street House 2017
This house is an example of Studio 804's ongoing mission to build creative sustainable housing in established, but marginal urban neighborhoods. It is convenient to downtown Lawrence. Kansas, to the public transportation system and the bike trails that link the town. It is less than a block from the East Lawrence Recreation Center, which offers a wide variety of services, and is across the street from Brook Creek Park and its open green spaces, playgrounds, and large mature trees. It is a 1,300 square foot house that makes extensive use of salvaged material and minimizes energy consumption. Sixteen net metered solar panels on the roof provide up to 4.8 kilowatt-hours: of power and will generate enough electricity to operate the house at net zero energy use over a calendar year.
Studio 804 has always been willing to build on brownfield and undesirable infill sites in urban neighborhoods. This house was built on two small lots that had been built up above the flood plain of Brook Creek. We saw it as an opportunity, as the property cost less than the typical vacant Lot in the established neighborhoods of Lawrence.
The insulated metal panels that distinctively clad the house were rejects from the construction of a tennis center being built nearby. When Studio 804 began to shape a design around these panels, the prefabricated steel Lustron houses that were developed in the United States after World War II came to mind. They were a response to the lack of housing for veterans returning from the war. This house shares the spirit of the Lustron homes. It is a modest self-sustaining, low maintenance, fully accessible dwelling offering model for houses in the future as resource management becomes increasingly necessary.

LEED Platinum Certified