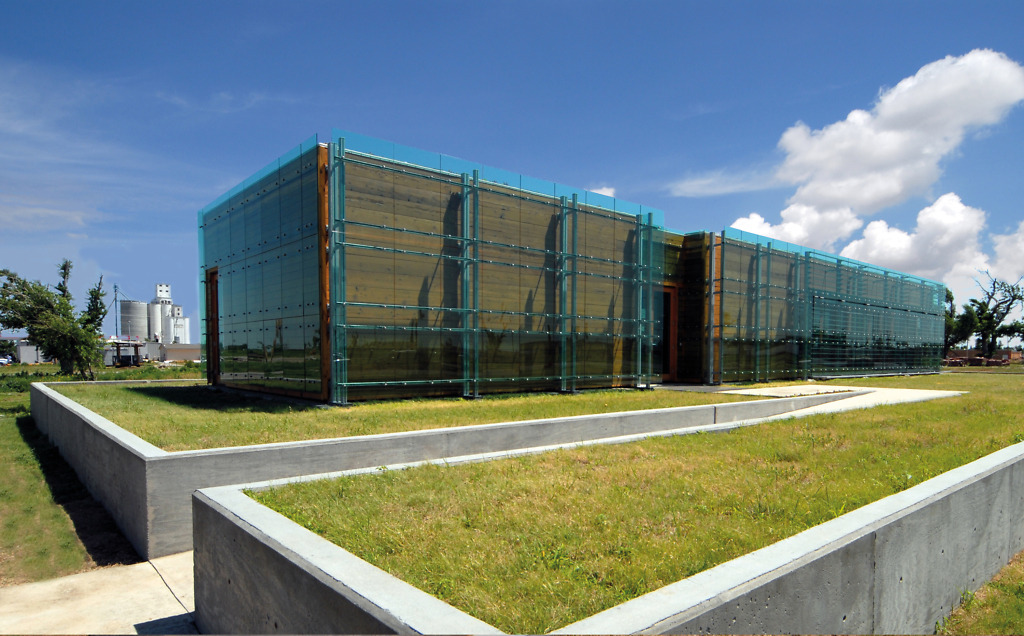 5.4.7. Arts Center 2008
The class of 2008 was a pivotal one in the development of Studio 804. Not only did they do the first commercial building after years of residences, but it was the first LEED Platinum certified building.
Studio 804's sustainable prototype is a collaboration with the 5.4.7 Arts Center in Greensburg, KS. The building was developed for the long-term use by the Arts Center, however, as the first completed public facility in the tornado-devastated town, it served as a beacon for the community and their ambitious rebuilding efforts.
Following the tornado, the Greensburg City Council passed a resolution requiring all publicly funded city buildings to be rebuilt to the U.S. Green Building Council's LEED Platinum level of certification. Although the Arts Center is not built with public funds, Studio 804 felt strongly that supporting council's decision for the first new building completed was important and could act as example for future projects. On June 16th, 2008 – on the one-year anniversary of the tornado – the Sustainable Prototype became the first LEED Platinum building in the state of Kansas, as well as the first designed and built by students anywhere.
For a community meeting hall and an art gallery to coexist in the same small building and to use passive sustainable strategies meant that there were some inherent incompatibilities to overcome. Foremost, was the desire to have a building that would open to the town and to the southern sun while protecting the art from the sun's UV rays – not only to keep the art from being damaged but to make for a comfortable viewing environment. To find a flexible, easily operated, manually controllable way to open and close the south wall Studio 804 ended up in contact with a supplier of airplane hangar doors and door was designed that when closed creates louvers to block sun and when open allows gatherings to spill onto the expansive buffalo grass lawn to the south.
LEED Platinum Certified