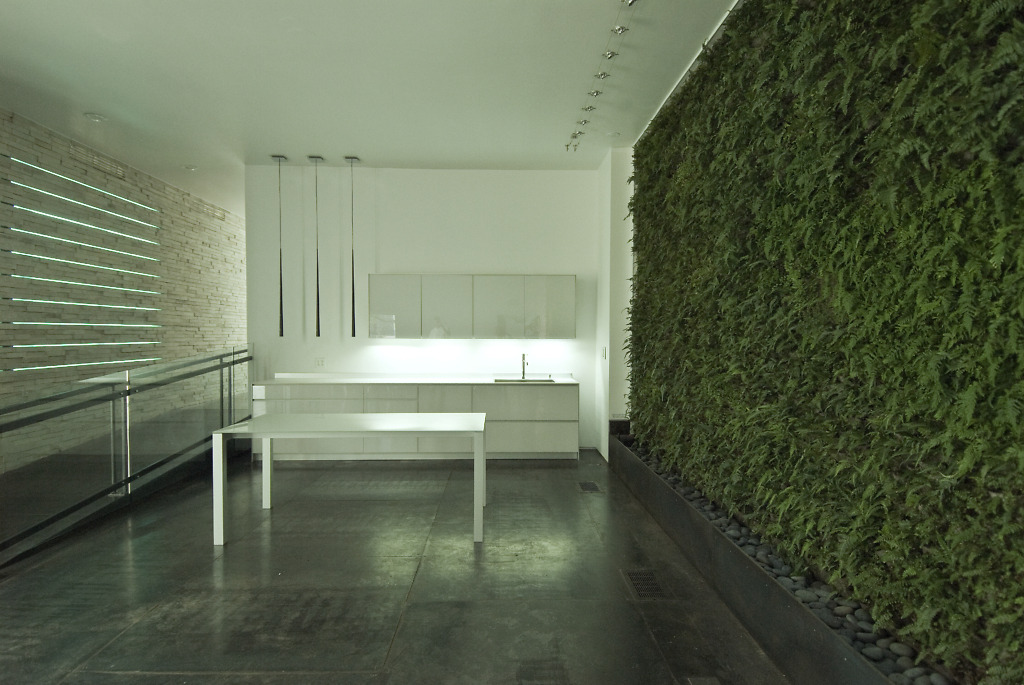 Center for Design Research 2011
The Center for Design Research (CDR) is an addition to the Chamney House which was part of a historic dairy farm that was purchased by the University of Kansas in 1963 and is now part of its campus. The CDR is a location for interdisciplinary work in the research and development of consumer products and services. It is also a place for the education of the KU and Lawrence communities in sustainable strategies. The stone and glass rectangular box is attached to the back of the existing house by a covered deck. The addition extends toward the historic Chamney Barn and exposes a long south elevation.
The interior spaces are finished with the raw expression of mill finished steel, limestone, glass and plants. The two elements that stand out most are the living wall of ferns and begonias that covers the north wall and the stone and glass Trombe wall that makes up much of the south. The Trombe wall is a passive solar assembly composed of two walls surrounding an enclosed air space. The inside wall is a high mass material, in this case stone, and the outer wall is glass. On sunny days the mass of the Trombe Wall not only absorbs the heat of the sun hitting its surface but also the heat trapped in the air space. It then slowly releases the stored heat into the building at night.
The south elevation is glazed with electrochromic glass units employing multiple layers of ceramic film that when electrically charged alter their relationship to each other to tint the glass to varying degrees and manage the sun's light and heat. The glass wall can adapt to up to the minute changes in the building's use or the weather conditions.
The stone cladding and Trombe wall are made with 100 tons of stone tailings, a waste product of finish stone production which is usually destined to make its way from the quarry to a landfill.
LEED Platinum Certified
Passive House Institute US (PHlUS) Certified (First Commercial Building in North America)