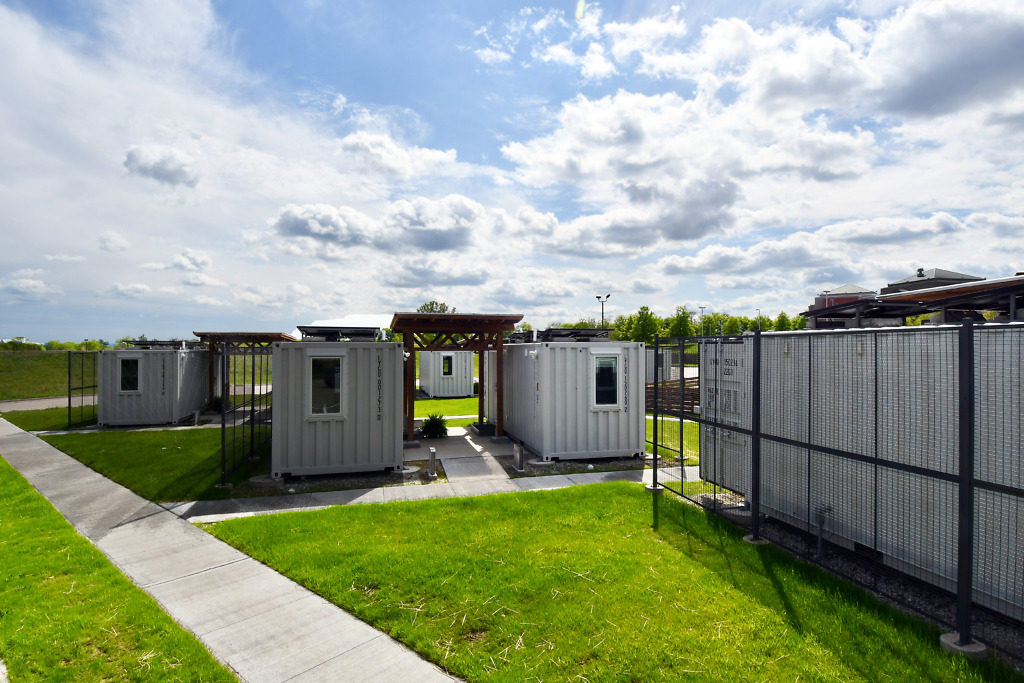 Monarch Village 2021
Monarch Village on the property of the Lawrence Community Shelter (LCS) is an innovative shelter solution that meets the needs of families experiencing homelessness in a rapidly changing world while supporting their transition to permanent housing. Homelessness is a public health crisis, apparent in its impact on both the psychological and physical wellness of individuals and communities. Across the nation, homeless shelters struggle with providing safe, trauma-informed environments for families and individuals in transition. Working through the heart of the COVID-19 pandemic Studio 804 donated and built 12 safe, easy to staff dwellings that offer much needed privacy for families while allowing guests access to important services at the shelter. It is hoped that this project will be a precedent supporting the movement away from housing the homeless in gymnasium-like rooms full of bunk beds.

Each tiny home is paired around a shared covered patio. They surround an existing community vegetable garden and future planting to support the migration of the monarch butterfly. A 900-square-foot, open-sided commons shelter is just north of the garden and acts as gathering space for those at the shelter. Each unit includes space for four people with two separate sleeping areas, a bunk bed in one and a pull-out sleeper couch in the other. In addition, each unit has a full bathroom and small kitchenette. One unit has been designed to be fully ADA accessible. All the furniture and cabinetry was designed and built by the students of Studio 804. The cafeteria in the main building serves meals to the entire shelter population using a farm to plate concept. The small kitchenettes are designed for supplemental food preparation and fresh water. Each unit is fully sprinklered to offer the highest standard in fire safety for the families.
LEED Gold Certified