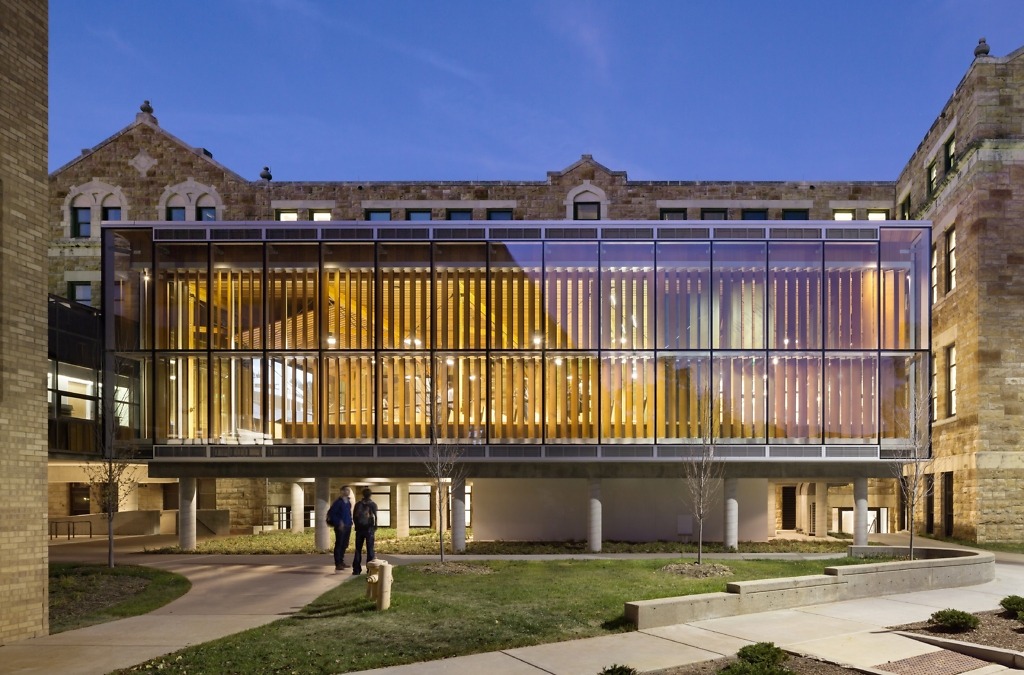 The Forum at Marvin Hall 2014
The Forum was conceived in 2004 by John Gaunt, Dean the University of Kansas School of Architecture and Design from 1995 to 2015, to transform historic Marvin hall which houses the program. There had never been a "there' in Marvin hall – a Living room for students and faculty to interact, a place to welcome visitors, a space that defined the school. Nor had there been a room for assembly, all architectural lecture classes, visiting speakers and special presentations had to happen elsewhere on campus. The addition includes a 121 seat lecture hall, a new review space for students to present their projects and a common room that acts as a foyer for The Forum and creates the desired Living room.
Passive strategies to save energy typically require a tolerance for temperature swings and varying light levels. For a lecture hall to work, conditions need to be predictable and consistent. The mechanical system minimizes the need for active heating and cooling by working with the sun, wind, heat, Light and other energy flows in and around the project to formulate a solution based on the local climate and the needs of the user. The double-wall ventilated facade is composed of two walls of insulated glass. They are separated by a 41-inch airspace which houses the automated red cedar louvers. If sensor readings show that fresh air can assist or take over for cooling, the double-wall dampers will be set to promote cross-ventilation and introduce fresh outdoor air. During the summer months, the louvers are programed to track the sun and reduce the solar heat gain by shading the interior glass wall The dampers will open to remove the heated air at the top while bringing cooler air in from below. During cold winter days, all the dampers are closed and the space between the double walls will trap the sun's heat to create a "warm blanket' to surround and insulate the addition.
For the students of Studio 804 to take on a task of this size and complexity was made possible by the enthusiasm of Dean Gaunt, whose passion for the environmentally conscious expansion of Marvin Hall guided the effort. It was completed in only one year and exists as a landmark achievement for both the school of architecture and Studio 804.
LEED Platinum Certified